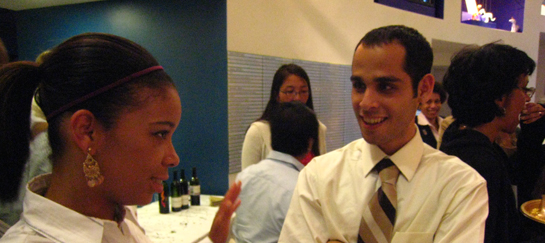 As we plan to meet our nation's health workforce needs we cannot afford to let any of our communities fall behind. Health care advocates are calling for a renewed commitment to addressing health disparities in underserved communities by improving the training of our health workforce and thousands of individuals and organizations came together to create a National Stakeholder Strategy for Achieving Health Equity . One of the Strategy's core goals is to improve the cultural competency and the diversity of our nation's health and health-related workforce through training because greater competency has a direct effect on the success of efforts to improve health.
The Role of Universities in Student Training
Universities have a critical role to play as they train our current and future health workforce. Yet without an understanding of how to work with and within diverse communities students are not being successfully prepared and communities are not benefiting from the best that universities have to offer. As part of its research on workforce diversity and training, the BRITE Center studied how to improve the hands-on training that students in health-related fields receive within communities. The center also examined the curriculum at UCLA to assess opportunities to include diversity and cultural competence in health-related training.
To address how to better train students, the BRITE Center created a new Community Engagement Framework as a blueprint for universities to improve civic engagement and volunteer programs and to maximize the impact of their students' education and training. The framework includes core principles for universities and students, as well as core competencies to include in any community engagement training program.
The BRITE Center's series of reports on workforce diversity and training make a compelling case for why UCLA and other universities should create undergraduate- and graduate-level minors, specializations and/or certificate programs in community engagement that focus on partnering with diverse communities.
Related Links
• Report Brief — The BRITE Center's Community Engagement Framework Is a Blueprint for Supporting a Stronger, Diverse Work Force Through University Civic Engagement and Service Learning [coming]
• Training the Next Generation of Scholars for Effective Leadership in a Diverse Community Environment: Graduate and Professional-Level Training for Effective Community Engagement [coming]
• Methods for Increasing Recruitment and Retention of Ethnic Minorities in Health Research Through Addressing Ethical Concerns [coming]
• Report Brief – A National Student Volunteer Health Corps Would Help Meet Critical Community Needs [coming]
• Living the Good Life: Screening for Health — A Report on the Outreach and Academic Preparation of the Undergraduate Student Health Organizations of the University of California and Comparison Public Universities — [coming]
• Health Fair Online Planning Guide — As a way to bridge the gap in health resources and better leverage campus/community partnerships, the Center produced an online planning guide on how to create and run student-led community health fairs. The guide illustrates general steps to consider when planning a health fair. The guide includes community health assessments that can be used by community organizations to monitor and identify health disparities at the community level, as well as tools to conduct behavioral health education and health promotion. There are also health promotion materials in several languages and a listing of health fair activities for children. Learn more about creating a student-led health fair.