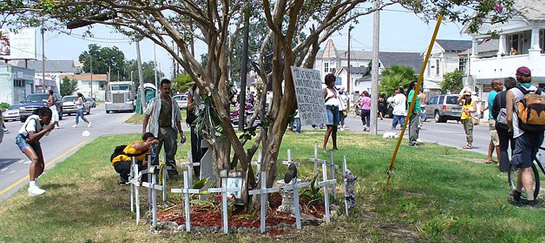 Redefining the Process for Response and Recovery
It's been more than five years since Hurricane Katrina devastated the Gulf Coast and with every new hurricane season, or other natural disaster, communities face the challenges of disaster response, recovery and resilience. Communities often face the loss of lives and jobs, a transformed landscape, and the prospect of living in toxic post-disaster environments. With training in the mental health needs of vulnerable populations, non-traditional first responders such as parents, teachers and religious and spiritual leaders have the potential to boost the resilience of communities and help shepherd them through the immediate aftermath of disasters to the support networks and services that they need to heal, recover and thrive. Women in particular face specific pressures and have a powerful role to play for their families and communities.
The BRITE Center's ongoing project in New Orleans, Helping Hands, Healing Minds, brings together faith leaders, community leaders, women's organizations, and health and mental health experts to learn how to become trained responders. The project focuses on recognizing that different populations have specific needs and face different pressures that need to be addressed in order for them to recover and move forward. Through conferences and other events, the center's efforts focus on how to reach populations that may need more help and consideration, such as limited-English-proficient populations, ethnic minorities and American Indian communities. Participants are trained to recognize signs of stress, trauma, depression and cognitive impairment in order to bolster the network of available responders who can connect community members to each other and to the services they need.
In addition to video training modules, the project website features extensive resources for community leaders, including toolkits on the needs of children and youth for parents, teachers and caretakers; resources on faith-based mental health supports in communities; training sessions on the role of women in disaster response, and a wealth of additional material.
Related Links
Project website: Helping Hands, Healing Minds: The New Orleans Mental Health Education and Training Project