Past Events

"The Art of Polling in the Era of Social Messaging" Inaugural Talk by Cornell Belcher
January 25, 2013 3:00 pm

-

5:00 pm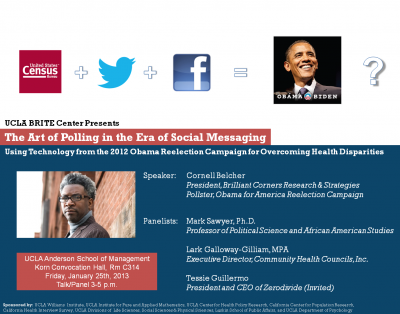 The BRITE Center believes that the science and art of polling paired with the use of social media is an innovative and powerful approach that can potentially be used in research and applied settings.
As one of the pollsters and strategists who helped develop the technique, Cornell Belcher will discuss how the Obama for America campaign used the approach of combining data and social messaging to find and recruit previously untapped and neglected communities to secure and predict the president's reelection. In particular, he will discuss how to use the technique to move people to action. We will also have other panelists from the health care sector to comment on how these strategies can be transferred to efforts in reaching specific subpopulations with health-focused behavior-change messages. As 2013 has been dubbed the "Year of Statistics" this is a great talk to illustrate the growing value of diverse data sources and an applied strategy for using data combined with technology to reach targeted audiences.
UCLA Anderson Graduate School Of Management
110 Westwood Plaza, Los Angeles, CA, 90095
Korn Convocation Hall, Rm C314
Friday, January 25th,
Talk/Panel 3-5 p.m.
Afterwards, please join us in celebrating the inauguration of the BRITE Center!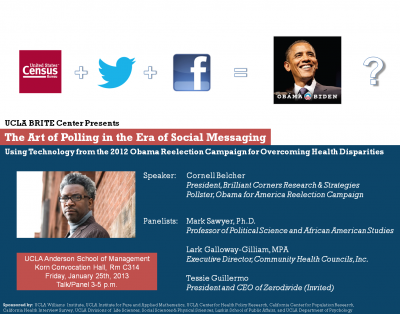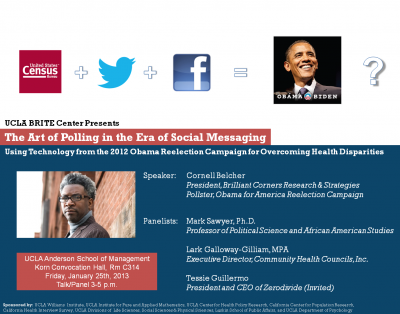 Featured Media